FRANKIE AVALON – ACTOR, SINGER AND FORMER TEEN IDOL
Frankie Avalon is an American actor, singer, playwright, and former teen idol.
Early life and music
Avalon was born in Philadelphia, the son of Mary and Nicholas Avallone.[3] He was on U.S. television playing his trumpet by the time he was 11, performing on such programs as The Jackie Gleason Show.[citation needed] Two singles showcasing Avalon's trumpet playing were issued on RCA Victor's "X" sublabel in 1954.[4] As a teenager he played with Bobby Rydell in Rocco and the Saints.[citation needed] In 1959, "Venus" (5 weeks #1) and "Why" went to number one on the Billboard Hot 100. "Why" was the last #1 of the 1950s. Avalon had 31 charted U.S. Billboard singles from 1958 to late 1962, including "Just Ask Your Heart" (U.S. #7), "I'll Wait for You" (U.S. #15), "Bobby Sox to Stockings" (U.S. #8), and "A Boy Without a Girl" (U.S. #10). Most of his hits were written and/or produced by Bob Marcucci, head of Chancellor Records. He was less popular in the U.K., but did still manage four chart hits with "Why", "Ginger Bread", "Venus" and "Don't Throw Away All Those Teardrops".
Movie and TV career
Teamed frequently with Annette Funicello, Avalon starred in a number of popular "beach party" comedy films during the mid-1960s. The wholesome and romantic coupling of "Frankie and Annette" in summer movies such as Beach Party and Beach Blanket Bingo became iconic figures in American films during that era. Avalon also had straight dramatic parts in the John Wayne historical western film The Alamo, as well as the science-fiction story Voyage to the Bottom of the Sea (1961) with Barbara Eden. Materializing as a character called Teen Angel, his performance of "Beauty School Dropout" in the hit 1978 film of the musical Grease introduced Avalon to a new generation of viewers. Avalon appeared in nearly two dozen TV episodes, including ABC's The Bing Crosby Show and The Patty Duke Show, appearing often as himself. Later, he became a national television spokesperson for Sonic Drive-In. In 1965 he appeared in the Combat! episode "Brother, Brother" as a childhood friend of Pfc.Kirby, played by Jack Hogan.
The 1980 film The Idolmaker, written by Ed Di Lorenzo and directed by Taylor Hackford, was a thinly-disguised biography of Avalon ("Tommy Dee" in the film) as well as 1950s teenage star Fabian Forte (called "Caesare" in the film), along with songwriter/producer Bob Marcucci (called "Vinnie Vacarri"). In the movie, Dee clashes with the record producer and younger singer Caesare, who he feels threatens his career. Eventually, Dee and Caesare quit the label, but their record careers collapse just as the British Invasion begins. The real Fabian threatened a lawsuit, despite the filmmakers' insistence that the film presented only fictional characters (though Marcucci was a paid consultant). Avalon denied most of the movie's events.
Later career
In 1987, Avalon and Annette Funicello returned to movies with Back to the Beach. In 1989 they also appeared as themselves in cameo roles out jogging the streets in Troop Beverly Hills. Not long afterwards, Funicello was diagnosed with multiple sclerosis and retired. Afterwards, Avalon turned to marketing and created Frankie Avalon Products, a line of health and cosmetic aids. Avalon promotes his products on the Home Shopping Network with host Bob Circosta.
He made a cameo appearance as himself with Robert De Niro in the 1995 film, Casino. In recent years, Avalon has starred in stage productions of Grease in the role of Teen Angel and Tony n' Tina's Wedding as a caricature of himself. Additionally, in 2007, he performed "Beauty School Dropout" with the four remaining female contenders (Kathleen Monteleone, Allie Schulz, Ashley Spencer, and winner Laura Osnes) for the role of Sandy on the NBC television reality show Grease: You're the One that I Want! On April 8, 2009, he performed on American Idol. A cookbook with over 80 recipes is due out in 2015 from St. Martin's Press, Frankie Avalon's Italian Family Cookbook.
Personal life
Avalon married Kathryn "Kay" Diebel on January 19, 1963. She was a former beauty pageant winner, and Avalon met her while playing cards at a friend's house. He told his friend that Kay was the girl he was going to marry. His agent warned Avalon that marriage would spoil his teen idol mystique. Still together, they have eight children - Frankie Jr., Tony, Dina, Laura, Joseph, Nicolas, Kathryn and Carla. They have 10 grandchildren. Frankie Avalon Jr. is a former actor who appeared in the original The Karate Kid and is now a musician, and Tony, the second oldest son, plays guitar and taught at the Rock Nation School. Both sons play on tour with their father.
Legacy
He was mentioned in the System of a Down song "Old School Hollywood". The song supposedly is about Daron Malakian's experience in a celebrity baseball game, where he and Avalon were both ignored. Avalon is also mentioned in "It Takes Two", a song from the hit musical Hairspray, sung by the character Link Larkin, and in a song by the Wu Tang Clan called "The City" which refers to his experiences of being a big part of the beach party film genre ("Ride the wave like Frankie Avalon").
One of numerous obscure cultural references present in Midway's video game Mortal Kombat 3 was a lo-res image of Frankie Avalon's face that would dart up in the lower right-hand corner of the screen when Goro killed his opponent by knocking him into the spike pit on the Bridge level. His song "Venus" was featured in Cranium Command (1989–2005), an attraction at Epcot's Wonders of Life Pavilion (now closed) at Walt Disney World. In the attraction, a 12-year-old boy named Bobby (Scott Curtis), tries to survive the pressures of life and falls in love with a beautiful girl named Annie (Natalie Gregory) at school. He and his song "Venus" are mentioned in Wendy Wasserstein's 2005 play Third. The main character, English professor Laurie Jameson, watches a PBS reunion show featuring Avalon singing the song, and sings a line of it to her daughter. In stage productions of the show, part of the song is played and a portion of the supposed PBS special is screened as part of the scenery.
He is also numerously referenced in the 1994 film, The Stöned Age, in which he makes an ending scene cameo appearance. His song "Venus" additionally appeared in season 4 of the TV series Dexter in which John Lithgow's character, Arthur Mitchell, plays it to remember his deceased sister. Avalon is also mentioned in The Vaccines' song Teenage Icon.
JAMES DARREN ACTOR, DIRECTOR & SINGER TALKS ABOUT HIS UPCOMING APPERANCES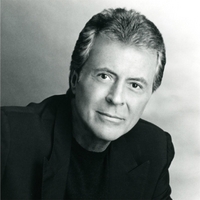 James Darren has enjoyed a successful, multi-faceted career, spanning six decades of motion picture, television, recording and live concert performances. With a notable career in films ("Gidget," "The Guns of Navarone") as well as television ("The Time Tunnel," "T.J. Hooker," "Star Trek: Deep Space Nine"), Darren has re-emerged on the recording scene with his latest CD, Because of You (Concord Records), an impressive collection of standards and big band swing. The album, a follow-up to his acclaimed 1999 release, This One's From the Heart (Concord Records), reaffirms Darren's incomparable talents as a singer.
Born in South Philly as James Ercolani, a second-generation American of Italian descent, Darren cites his beloved grandmother as the greatest guiding light of his life and his career. By the age of 14, Darren knew he wanted a show business career, and he embarked on the road to stardom by singing in nightclubs in Philadelphia and South Jersey. By age 18, he was in New York, studying acting for several years with the legendary drama teacher Stella Adler.It was a chance introduction to Hollywood movie producer Joyce Selznick (niece of the legendary David O. Selznick) that led to Darren's seven-year contract with Columbia Pictures and his first big break: starring as the college student-surfer Moondoggie opposite Sandra Dee in the 1959 classic comedy hit, "Gidget." Two sequels would follow, and Darren was soon on Hollywood's short list of most sought-after young dramatic actors. He would make 20 films in all, including "The Guns of Navarone," "The Lively Set," "The Gene Krupa Story," "The Brothers Rico," "Gunman's Walk," "Let No Man Write My Epitaph," and "Diamond Head."
Darren's singing career encompasses an impressive roster of musical credits including 14 albums and five Top 10 singles, including the 1961 Grammy- nominated "Goodbye Cruel World," which held the No. 1 spot on the Billboard charts for six weeks. Throughout the early 60s, his recording career continued to skyrocket with subsequent Top 10 hits including "Her Royal Majesty," "Conscience," and "All." In 1976, he landed still another hit with "You Take My Heart Away" from the Oscar-winning film "Rocky."
Darren would also make his mark on the small screen, starring in several hit television series, including "The Time Tunnel," "T.J. Hooker," "Star Trek: Deep Space Nine" and "Melrose Place." In 1987, the versatile entertainer began another phase of his career, this time as a highly in-demand director for television whose credits include several "movies of the week," and more than 50 television shows ranging from "Melrose Place" and "Beverly Hills 90210" to "Hunter" and "Walker, Texas Ranger."
But it is James Darren's love of music that finds him back in the spotlight. In 1999, he returned to the recording industry in a big way, releasing This One's From the Heart, a collection of some of the greatest classics ever penned, including "The Way You Look Tonight," "Come Fly With Me," and "I've Got You Under My Skin" which re-introduced the world to Darren's lush vocals.
In his recordings, his concert appearances in Atlantic City and Las Vegas, as well as his concerts with world-renowned symphonies across the U.S., including the San Diego Symphony, the Dallas Symphony and the Iowa Symphony, the media has also taken notice of James Darren the singer. The San Diego Union-Tribune called him a "compendium of coolness, a wizard of with-it-ness." The Chicago Sun-Times said "Darren is as smooth as silk."
Actor, director, recording artist – James Darren has made an indelible mark in the entertainment industry. And as the song says, the best is yet to come.
UPCOMING SHOWS:
Aug 6-9, 2015 Creation Las Vegas
Jimmy will perform August 8 at the concert. Tickets are free for weekend pass holders or $40 otherwise
Las Vegas, NV
August 15 & 16, 2015 Southpoint Hotel and Casino
Las Vegas, NV
Note NEW Dates
August 15 & 16, 2015 Creation Star Trek 50th Anniversary
DALLAS, TX
Friday, Saturday and Sunday April 8 - 10, 2016