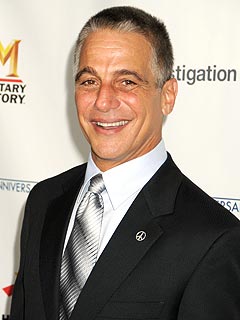 Perhaps best known for starring on some of television's most beloved and long-running series, including Taxi (1978–1983) and Who's the Boss (1984–1992), Tony Danza has also established himself as a stage and screen star, and has indisputably been one of America's most iconic and beloved performers for over thirty years.
Born and raised in Brooklyn, Danza received a wrestling scholarship to the University of Dubuque in Iowa, where he earned a bachelor's degree in history education. Before finding a job teaching, he found himself earning a living as professional boxer. While training in a boxing gymnasium in New York, Danza was "discovered" and ultimately cast in the critically acclaimed ABC series Taxi, earning him a place in television history and making him a household name. He followed Taxi with a starring role in the classic ABC comedy series Who's the Boss?, which ran for eight seasons and broke all syndication records.
Eventually Tony explored his love for the stage, and among his many stage credits is his exciting run on Broadway in Mel Brooks's hit musical The Producers, playing Max Bialystock (2006–2007), and his reprise of the role in the Las Vegas production at Paris Las Vegas (2007). For his theatrical debut in Wrong Turn at Lungfish (1993), he earned an Outer Critic's Circle Award nomination. Other stage credits include the critically acclaimed The Iceman Cometh, opposite Kevin Spacey, Arthur Miller's Tony Award–winning play A View from the Bridge, and I Remember You.
Most recently, Tony returned to the stage in the pre-Broadway run of the much buzzed about and highly acclaimed smash hit musical Honeymoon In Vegas, which he starred in at the Paper Mill Playhouse along with Tony Award nominee Rob McClure (Chaplin), and Brynn O'Malley (Annie). With music and lyrics by Tony Award winner, Jason Robert Brown (Parade, The Last Five Years), the musical is written by Andrew Bergman (Fletch, The Freshman, Blazing Saddles, Soap Dish, The In Laws) and based on his hit Castle Rock / New Line comedy of the same title. Both the show and Tony's performance received amazing reviews, including a love letter from The New York Times, which compares Tony's performance to "the cooler-than-cool spirit" of Frank Sinatra. The musical is expected to open on Broadway later this year.
Tony also recently returned to the big-screen and received great buzz and fantastic reviews for his performance as Joseph Gordon Levitt's father in Levitt's much buzzed and acclaimed directorial debut, Don Jon. The film, which stars Levitt, Danza, Julianne Moore, Brie Larson, and Scarlett Johansson, was was released in theaters in the fall of 2013.
Among Tony's previous television experience is his role as attorney Joe Celano on the CBS dramatic series Family Law (2000–2002), his Emmy-nominated performance on David E. Kelley's award-winning series The Practice (1998), and ABC's The Tony Danza Show, a talk show that was broadcast live in New York from 2004–2006. He also starred in and executive-produced the ABC comedy series Hudson Street, NBC's The Tony Danza Show, hosted Saturday Night Live several times and hosted numerous award shows, including the 2001 Miss America Pageant and the 2003 People's Choice Awards.
Amongst Tony's big-screen credits are his roles in Walt Disney's Angels in the Outfield, She's Out of Control, The Hollywood Knights, and A Brooklyn State of Mind.
In 2009-2010, Tony took on his most challenging role yet—teaching tenth-grade English at Philadelphia's Northeast High School. His amazing experience working as a real teacher was taped and aired on A&E last year in the form of the critically acclaimed seven-part documentary series, entitled Teach. In September 2012, Crown Publishers (a division of Random House) releases Tony's book, I'd Like to Apologize to Every Teacher I Ever Had: My Year as a Rookie Teacher at Northeast High, a much buzzed about and critically acclaimed reflection of his experience teaching for a year. The book premiered on the New York Times Best Sellers list at number 16 and stayed on the list for two months. The paperback edition hit bookstores in September of 2013.
In 2010, AARP The Magazine, the definitive voice for 50+ Americans and the world's largest-circulation magazine with more than 35 million readers, presented Tony with their Inspire Award. The Inspire Awards pay tribute to extraordinary people who inspire others to action through their innovative thinking, passion and perseverance.
In December of 2012, Tony was amongst the iconic celebrities who participated in the Weinstein Company's historic concert for Hurricane Sandy Relief at Madison Square Garden. He was featured in the documentary about the concert, released by the Weinstein Company in the fall of 2013, in which Tony reminds people of the forgotten motto of America, "E pluribus unum," or "out of many one," or as Tony's father would say, "we're all in this together, pal." It's with great belief in the spirit of that motto that Tony participates in many charity efforts.
In April of 2013, USA Today honored Tony at their annual National Make A Difference Day Awards for his commitment to helping others through his numerous charity efforts.
Tony currently lives in New York City.
CURRENT PROJECTS
September 20th marked the 30th anniversary of the premiere of one of the most universally beloved and financially successful sitcoms of all time - Who's The Boss starring Tony Danza.
As reruns are currently playing 6 nights a week on TV Land (as they also play in almost every other major country around the world), Danza's iconic career is still going and ever growing impressively since he first came into our lives in September of 1978 as Tony Banta in Taxi, also one of the most classic and beloved sitcoms of all time.
Almost 40 years and many great screen and stage performances later, Danza is still impressing with each of his performances. Recently, his performance in the breakout Sundance hit Don Jon, opposite Joseph Gordon Levitt and Scarlett Johansson, received rave reviews from critics and audiences, and the LA Times amongst others even said he should have been nominated for an Oscar. It was actually his second time opposite Joseph Gordon Levitt, the first time was in the classic sports movie - ANGELS IN THE OUTFIELD, in which Tony starred as the pitcher and Joe starred as the kid.
This fall he is heading to Broadway, as one of the stars of three time Tony Award winner Jason Robert Brown's highly anticipated new Broadway musical Honeymoon In Vegas. For his performance in the musicals pre-Broadway run last fall, Tony received a love letter of a review from Ben Brantley of the New York Times, who said "the cooler-than-cool spirit Frank Sinatra is present in "Honeymoon," made flesh in a deliciously underplayed star turn by Tony Danza" and that his performance "may be the best musical portrayal of a gentleman gangster since the heyday of "Guys and Dolls."
Full link to the review here
Tickets are currently on sale (go to Ticketmaster or
Honeymoonbroadway.com
) and performances begin Nov 18th.