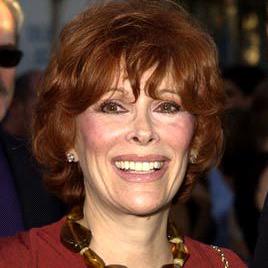 Jill Arlyn Oppenheim (born August 19, 1940), professionally known as, Jill St. John, is an American actress. She is best known for her role as Tiffany Case, the Bond girl in Diamonds Are Forever (1971).
St. John was born Jill Arlyn Oppenheim in Los Angeles, California, the daughter of Betty Lou (née Goldberg) and Edward Oppenheim, who owned a restaurant.[1][2] She graduated from Hollywood Professional School in the spring of 1955 at age 14.
St. John began acting on radio at age six. In December 1949, at age nine, she appeared in the first full-length made-for-TV movie, a production of A Christmas Carol. At age 11 she appeared in two episodes of The George Burns and Gracie Allen Show. In 1957, at age 16, Universal Pictures signed St. John to a contract. Her major studio film debut was in Summer Love (1958) starring John Saxon. She went on to appear in The Remarkable Mr. Pennypacker (1959), Holiday for Lovers (1959), The Lost World (1960), Tender Is the Night (1962), Who's Been Sleeping in My Bed? (1963) and Honeymoon Hotel (1964).
St. John received a Golden Globe nomination in 1963 for her performance in the film Come Blow Your Horn. She reunited with her co-star from that film, Frank Sinatra, in 1967 for Tony Rome. Other films she appeared in during this period included Who's Minding the Store? with Jerry Lewis, and The Liquidator (1965) with Rod Taylor.
In 1964, she guest starred with Lauren Bacall and Jason Robards, Jr. in the episode "Take a Walk Through the Cemetery" of Craig Stevens's CBS drama series, Mr. Broadway. St. John appeared in the first episode of the television series Batman in 1966 as the Riddler's moll, Molly (she was the only female to be killed off during the entire series).
St. John's most famous role was as Tiffany Case, the Bond girl in the 1971 James Bond film Diamonds Are Forever, where she starred opposite Sean Connery.
During 1983-1984, she starred with Dennis Weaver on the short-lived CBS soap opera, Emerald Point N.A.S., in which she played "Deanna Kinkaid," "Thomas Mallory's" conniving former sister-in-law. Her other television credits include guest roles on Magnum, P.I., The Love Boat, Hart to Hart, Burke's Law, and Fantasy Island.
St. John has worked on five movies with her husband Robert Wagner: Banning (1967); How I Spent My Summer Vacation (1967); Around the World in 80 Days (1989); Something to Believe In (1998); and The Calling (2002). In 1997, the couple appeared together at the end of "The Yada Yada" episode of the popular television sitcom Seinfeld.
St. John has not acted since 2002. She is the author of The Jill St. John Cookbook (1987).
St. John has been married four times. Her first marriage was to Neil Durbin, heir to a linen fortune. They eloped in Yuma, Arizona on May 23, 1957 when she was age 16 and he was 22. The marriage lasted just over a year, ending in divorce on June 3, 1958.
Her second marriage was to racecar driver Lance Reventlow from March 24, 1960 to October 30, 1963. Jill was 19 and Lance was 24 at the time of their wedding. Lance was the son of Barbara Hutton, heir to the F. W. Woolworth fortune. Lance died in a plane crash in 1972.
She married singer Jack Jones on October 14, 1967. They separated in February 1969 and were divorced later that year.
St. John has had relationships with musician Bill Hudson,[3] baseball player Sandy Koufax, actors Sean Connery, Jack Nicholson, Barry Coe, Peter Lawford, Robert Vaughn, and Frank Sinatra.[4]
St. John has been married to actor Robert Wagner since May 26, 1990. They first met in 1959 and have been a couple since early 1982.
After the death of her second husband Lance Reventlow, she dedicated her cookbook to his memory. Despite their divorce and his subsequent re-marriage, St. John refers to Reventlow as "my late husband" in interviews.
Will Link is your weekly "Link to the Movies" on "The PM Show with Larry Manetti." He is a screenwriter who has received accolades from various film festivals most recently the Shriekfest Horror Festival. Will is also a regular contributor to the film blog "You Won Cannes." You can hear his thoughts on the world of popular culture as co-host of "Will Sean Podcast?" downloadable at the iTunes store. Follow him on twitter @TheRealWillLink